In the realm of matrimonial jewellery, there are two primary options for men: engagement rings and wedding bands. The main distinction between the Men Engagement Rings vs Wedding Bands lies in their purpose and design.
An engagement ring is traditionally given by one partner to another at the time of the marriage proposal. It symbolizes a promise of commitment and the intention to marry.
On the other hand, a wedding band is exchanged between partners during the marriage ceremony itself, signifying the formal union. Unlike engagement rings, wedding bands are typically simpler in design, often consisting of a single metal band without elaborate diamonds.
What Is the Best Type Of Men Engagement Rings vs Wedding Band
Picking out a groom's wedding band is also a crucial part of the wedding planning process. Men's wedding rings are mostly simple and straightforward in terms of their design and choice of metal.
Some prefer a minimalistic look while few others opt for unique and interesting styles to make more of a statement. The unlimited choices when it comes to wedding band metals can be overwhelming. However, the best way to find that perfect wedding ring is to first prioritize the type of metal you would like to wear in your hand.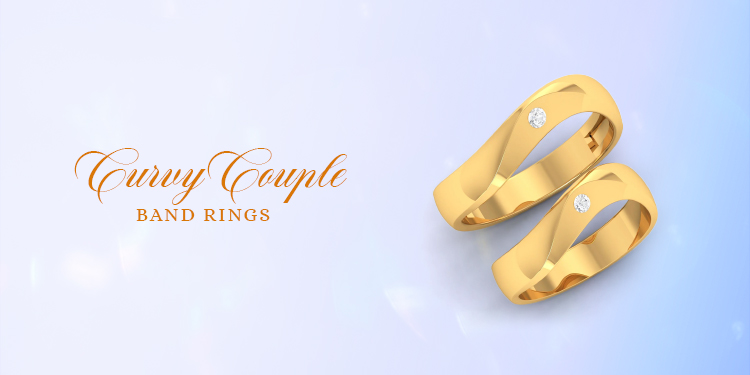 The most popular metals for men's wedding rings are gold, platinum, titanium, palladium, tungsten and silver. Each metal has its own strengths and weaknesses and choosing that ideal wedding ring largely depends on a man's personality and lifestyle.
Here's a sneak peek of some of the best wedding rings for men that are sure to grab everyone's attention-
Plain wedding band:
The majority of men prefer this classic style as their wedding ring. A plain band in precious metals like platinum, white or yellow gold looks stylish. Mostly they opt for the same metal as his bride. The groom's wedding couple bands are his symbol of matrimonial bond and are always as impressive as his wife's. The bride can buy first-night gift ideas for her husband in gold and a couple band is one of the great gift options.
But what is more important is the quality of the plain wedding band. The band shouldn't be made of any base metals and then plated in a precious metal like gold.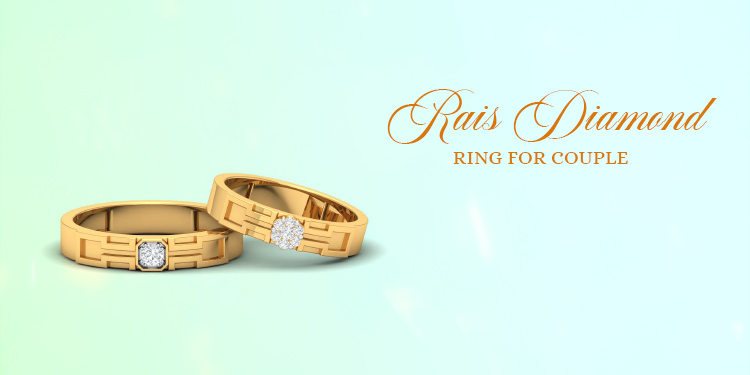 A high-quality ring will have the karat weight and quality tags stamped directly into the ring. As you notice the stamp, you can claim that you're dealing with the real metal.
When it comes to gold, the higher the karat, the higher the percentage of pure gold in that alloy. However, the popularity of the 18K gold is growing steadily, as it gives a deeper and richer golden yellow hue.
Another important characteristic is the manufacturing quality. Casting burrs and die-striking tags are normal parts of manufacturing and a quality ring should be polished and carefully inspected to make sure the finished piece is free of burrs. A high-quality wedding band will be smoothly polished to glistening perfection.
Black wedding band:
A new trend is the alluring black wedding bands for men. Many grooms are moving away from the common gold and silver wedding rings and preferring black ones. Its unique look and colour make it perfect for modern men.
This type of wedding band is increasingly becoming popular due to their striking colour and masculine look. Black wedding bands can be made from a variety of metals like cobalt, titanium, tungsten, and tantalum. They are budget-friendly and can be polished for a high-shine finish or even brushed for a matte finish.
Black wedding bands are made with intricate details, but keeping an eye on coated rings and checking for airflow and grip is extremely important. Every style of black wedding band has different features that make them appealing.
They are made with a simple design and can be easily resized. In fact, black wedding rings are the perfect practical option for men who have work or hobbies that don't encourage wearing jewellery as they can pose a danger.
Diamond wedding band:
Men's diamond wedding rings are trending and for good reasons. This highly symbolic gemstone adds glamour and bling to an otherwise plain wedding band. knowing about diamond colour, cut, clarity and carat weight, and how these 4Cs influence the value of the ring will help you to choose that perfect ring among the innumerable options available.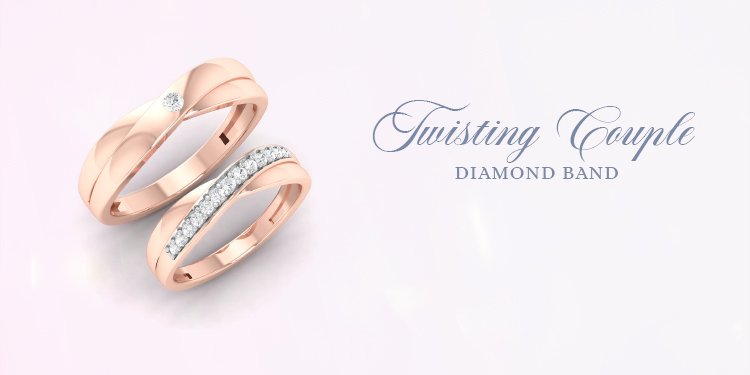 You can opt for a single bezel set diamond for maximum durability or can also consider adding diamond melee to the wedding band. Melee or tiny diamonds are typically either single-cut or full-cut and are often channel set or bead set into the band. This is done to add more sparkle to a wedding band.
To add more interest to the ring, and stay conventional, you may opt for a diamond solitaire ring that sits on your hand like a prince. It not only makes your wedding ring look interesting but looks simply stunning.
Diamonds have a language and charm of their own. Men's diamond wedding bands give a touch of sensuous panache to your wedding day. With its blithe beauty and resplendent charm, the diamond wedding bands have a way of expressing the soft, simmering passion that has peacefully bound you together.
Two-tone wedding band:
Two-tone wedding rings are made of two different metals. The most common combinations are yellow gold and platinum; however, it can also feature a combination of yellow, rose, or white gold. They symbolize the togetherness of two different souls. This can be a great option for men who prefer wearing a variety of jewellery so they can mix and match.
Gold wedding band:
Gold is versatile and has its own unique appeal. This evergreen metal is a classic and timeless choice for most engagement and wedding rings. A wedding band can be designed either in white gold, yellow gold, or rose gold.
Each carries an allure and can be combined with other precious stones and metals. Whether it is polished yellow gold featuring curved edges or a channel set diamond in white gold, gold is perfect for men who want to show off with a little more flair and style.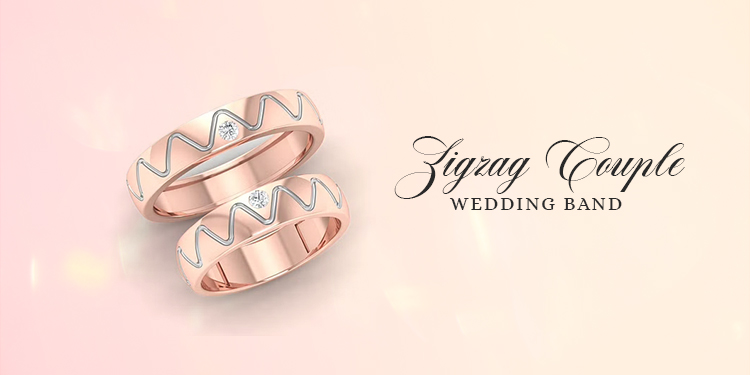 However, if your eyes are looking for something even more exclusive, how about a stunning black diamond ring contrasted beautifully with a white gold satin finish? They are sure the eye-catchers. Gold is ideal for those who want a vintage feel and also want something with a little personality.
Platinum wedding band:
A platinum wedding band is popular because of its visually appealing appearance and durable characteristics.  The colour and sheen of platinum make it a perfect metal for designing simple and classy wedding bands. While its resistance to scratches makes it more desirable.
From matte finish to satin shine, every design made with platinum offers a unique style, yet retains subtlety and class. If you wish to add a little more flair, go for a 12-channel set of diamonds in a satin finish platinum band allowing the stones to shine even brighter. Most importantly, unlike gold and silver, platinum does not tarnish and needs the least amount of maintenance over time.
Titanium wedding band:
Titanium is an ideal choice for lending countless designs to men's wedding bands. They are perfect for men who live an active lifestyle but desire a stylish ring. Wedding rings made with titanium often feature unique inlays, etchings, and other intricate details.
Whether you choose a shiny polished look or a brushed matte finish, each design comes out with equally stylish results. Right from a satin-finished bevelled edge design ring to a stain-finished concave design ring, titanium rings stand out in different ways with a more masculine appearance to perfectly fit the wearer's style.
Tungsten wedding band:
This forged metal is a great choice for making men's wedding bands because it is designed to last a lifetime. The metal never tarnishes and is highly resistant to scratches, which is why the tungsten wedding band is the most loved among men who work with their hands.
Tungsten men's wedding bands are found in white, grey and black and are often designed with creative inlays like colourful opal and wood. Interestingly, a wedding ring made of tungsten can incorporate personalized details, laser engravings, and imprints.
However, the priority calls for comfort and wearability above everything else. The relaxed and comfortable fit and the bold hue are ideal for anyone who wants a stylish band that will withstand the everyday challenges of life.
Silver wedding band:
Silver is known to be one of the inexpensive metals and this is why many people are drawn to this option to create the best wedding bands. Silver is a popular choice for wedding rings because it polishes to a beautiful mirror finish and has one of the whitest and most reflective surfaces of metals.
Most silver wedding bands are sterling silver and they come in a range of finishes and styles. They are highly reflective and look very similar to platinum or white gold when polished. Some of the popular gemstones that go well with sterling silver are aquamarine, blue topaz, green amethyst, and red garnet. These colourful gemstones offer plenty of brilliance and sparkle set against the white sheen of silver.
Sterling silver has gained popularity because of its composition of pure silver and can be worn daily with care. Whether you choose to wear a brushed finished flat comfort sterling silver band or a long blue topaz and diamond gemstone sterling silver wedding band, sterling silver wedding bands are marked as one of the well-accepted metals among men.
Choosing the perfect ring size:
Once you find your perfect wedding ring, it's time to make the ring perfectly fit your finger size. It is best to assign this task to a jeweller who has a ring sizer that displays bands in sizes from 2-12. It saves you the stress of finding the perfect ring size, or, even worse, just guessing and buying yourself a ring that doesn't fit properly.
Another alternative is to measure the diameter of your finger if you're buying your engagement or wedding rings online. Using one of your charts, you can compare your diameter size to a UK/US ring size to find the perfect match.
Remember, the width of a band ultimately influences how comfortable a ring will be on your finger. However, there's a common pattern with bandwidths. Research says that most men opt for bands 4mm or wider, while a few others choose a narrow 3mm ring or even a super-slim width of 2.5 mm.
Wedding ring profile:
Knowing the right wedding ring profile ensures maximum comfort. It is as best as knowing your perfect ring size. Here are some of the important wedding ring profiles to follow before you intend to buy one-
The classic court profile includes almost rounded rings which are always comfortable and the most common shape that couples prefer for their wedding bands.
A flat ring profile delivers both a flat interior and exterior. This means the entire surface of the band fits more comfortably around the finger.
D-shaped profile rings feature a slimmer design with a flat interior and are ideal for those who love the traditional shape of the classic court.
The flat court profile features a streamlined design with a comfortable rounded interior.
Choosing the perfect style:
Choosing a wedding ring style that stands the test of time is a little challenging. With endless styles, shapes, metals and patterns, it is baffling at times to find exactly what we want. So take your time, do some research and enjoy the whole process before you settle down to a choice. After all, you'll be wearing this ring for a lifetime.