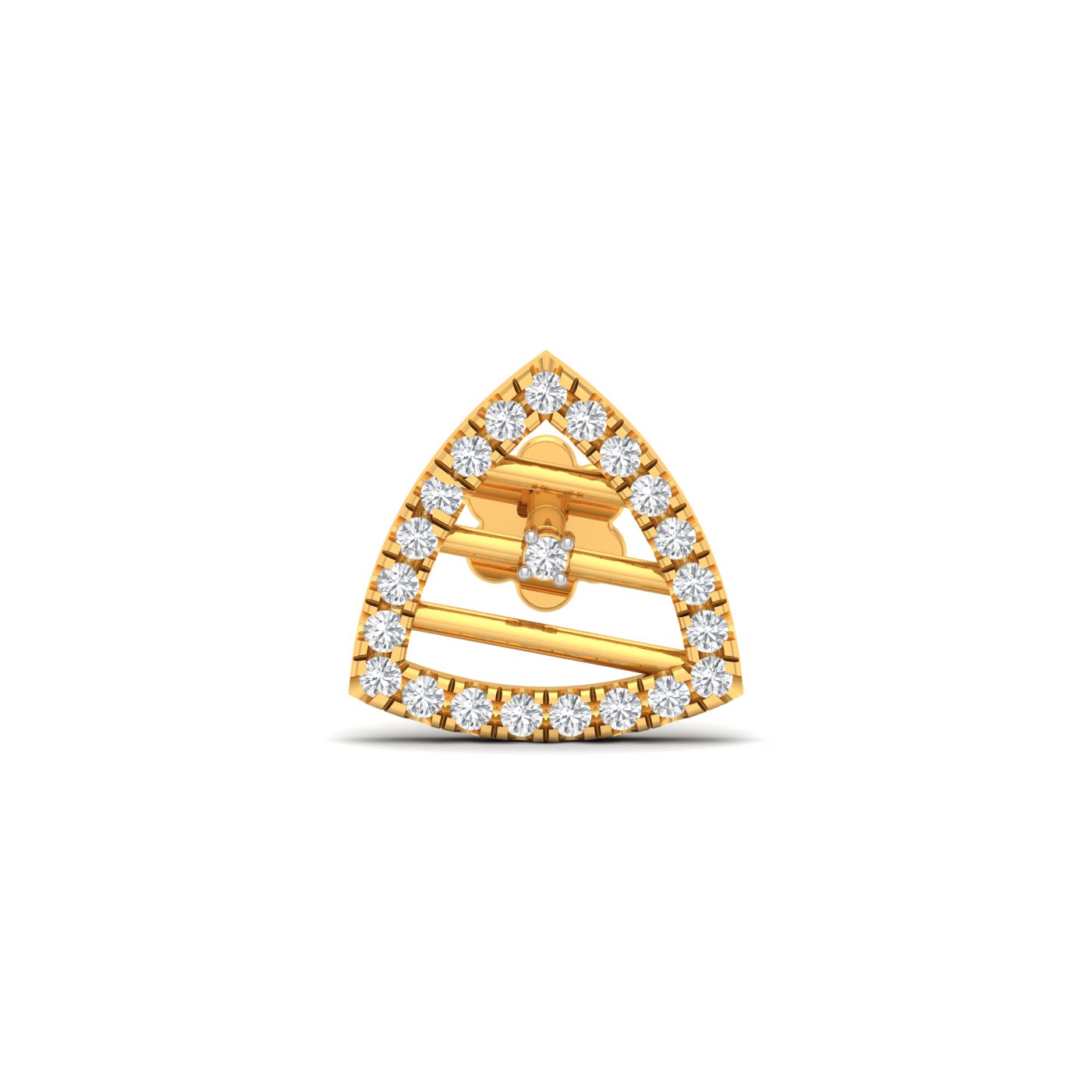 Eravati Diamond Screw Nosepin
In Yellow Gold (0.86 gram) With Daimond 0.180ct (vvs-ef)
Check Delivery Availability :
* This is a made-to-order product
Note: Weight and Prices are subject to minor changes.
product details
| | |
| --- | --- |
| Product Code | pnp21-1145-14kygvvs-ef |
| Height | 11 mm |
| Width | 11.2 mm |
| Product Weight (Approx.) | 0.896 gram |
DIAMOND DETAILS
| | |
| --- | --- |
| Total Weight | 0.180 ct |
| Total No. Of Stone | 22 |
| Clarity & Color | vvs-ef |
| Shape | round |
METAL DETAILS
| | |
| --- | --- |
| Type | 14k yg |
| Weight(Approx) | 0.86 gram |
PRICE BREAKUP
| | |
| --- | --- |
| Gold | ₹3,023 |
| Diamond | ₹24,088 ₹17,064 |
| Making Charges | ₹3,000 ₹2,400 |
| GST | ₹675 |
| Total (Incl. of all taxes) | ₹31,014 ₹23,162 |
| You Save | ₹7,852 |
The Eravati Diamond Nose pin features plain gold with a stunning diamond setting. Women and girls love to wear these kinds of trendy traditional pieces of jewellery, on their party days. Diamond nose pins are trendy in western countries. Some are plain, and some provide a different look that may be attractive. The Eravati diamond nose pin is an example of an excellent design that uses pure metal and diamonds on it suitable to wear during occasions. This kind of nose pin suits any dress perfectly as they have been made with much thought, so it matches perfectly on any occasion. These designs are trendy all over the world. Eravati Diamond Screw Nose pin Features

- It is made with 0.82 grams of 18 karats of pure yellow gold - The total gross metal weight of the Eravati nose pin is 0.78 grams. - The nose ring measures 11.00mm in height and 11.20mm in width. - The nosering comes in a beautiful box and will be shipped to you with the utmost care. - The material used in this nose pin is gold, which has always been a popular choice for adorning oneself. - This Eravati diamond nose pin is an example of an excellent design that uses pure metal and diamonds. Our Brand
Our Brand We have been serving our customers for the last many years. We offer the best quality products at affordable prices. Our team of professionals works hard to provide the best service to our clients. We believe in providing high-quality products at reasonable rates. We have a wide range of collections of Nose Rings, Earrings, Bangles, Necklaces, Bracelets, Rings, etc. We are committed to offering the best services to our customers. We understand the importance of customer satisfaction and strive to ensure that our customers get what they want. We value our reputation, and we take pride in our work.
METAL COLOR
It is made from pure gold and along with that it is mixed with alloy metals like zinc and copper.
PURITY
It contains 58.3% gold. It is harder than gold with 18k purity but not as hard as gold with 10k purity.
CLARITY & COLOR
A diamond that falls in the color category of EF i.e. colorless and clarity category of VVS i.e. very very slightly included.